TODAY GO-PED IS THE MARKET LEADER IN MOTORISED SCOOTER SALES, AND IS THE ESTABLISHED BRAND AMONG EXTREME SPORTS ENTHUSIASTS.
Go-Ped's diverse products are inspired and designed to capture the fun, free and trend-setting spirit that is the very essence of the individualistic lifestyle.
Go-Ped branded personal transport devices are available through a dedicated network of dealers in the UK.
LINE ONE DISTRIBUTORS ARE THE OFFICIAL UK DISTRIBUTOR OF GO-PEDS & SCOOTERS AND OFFER SPARE PARTS & SERVICING.


SPORT
The original California Go-Ped® has been in production for the past 25 years and the model that push started the powered scooter industry. The extremely rugged and sturdy Sport model has only been refined over the years and was designed to create a simple, economical, portable, and fuel-efficient form of personal transportation.

With a simple direct drive transmission that improves the power delivery to the rear wheel helps keep moving parts, size, and weight of the Sport to a minimum while increasing the efficiency makes the versatility of the Sport appeal to commuters and fun lovers of all ages.

With over 25 years of being in production there is a seemingly endless combinations of aftermarket parts available for the person that loves to tinker. Operation is easy with the simple push start capability, just push and go, stop and fold the bars for carry and you can take the Sport with you anywhere.
TO PURCHASE THIS PRODUCT CLICK HERE
£799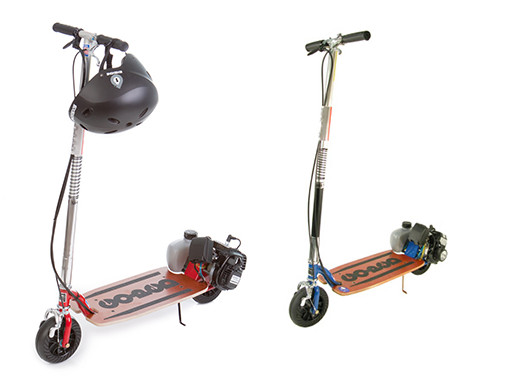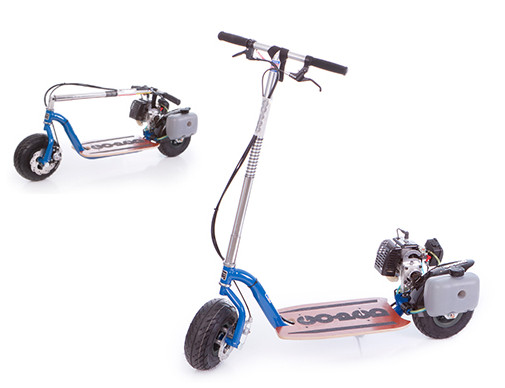 GSR CRUISER
After 25 years of building high quality motorised scooters for a wide variety of customers, PMW has now developed what it believes is the perfect machine for a very large segment of motorised scooter enthusiasts. The larger air filled tyres on the GSR Cruiser make navigating through bumps and pot holes a snap and the perfect machine for the customer wanting a quiet, reliable and economical motorised scooter with excellent performance, but also for the beginners wanting an affordable, safe and easy to learn first powered scooter.

The GSR Cruiser is the perfect machine for motor heads, tinkers, and the after market community, as chassis upgrades and screaming engine mods are widely available for a seemingly endless combination of customisability. Power is delivered to the rear wheel through a centrifugal clutch and chain drive for easy operation, just hop on and pull the throttle to go.
TO PURCHASE THIS PRODUCT CLICK HERE
£1099

GTR TRAIL RIPPER
After years of being meticulously engineered at the Skunk Werks, and raved about as the C.I.D.L.I, Patmont Motor Werks, the innovators of present day motorised scooters and creators of the Go-Ped® Brand, has just announced the release of their new pure off-road scooter, the Go-Ped® Trail Ripper 46.

No longer are paved surfaces important for Go-Ped® use.

This amazing stand-on schooter weighing only 46 pounds puts it's 4 HP to the ground through a simple, unique and tunable patent pending suspension system.

Previously other off-brand scooters have been introduced with traditional shocks. However, weight, complexity, reliability, short 1-3" travel and rider standing room problems have prevented these types of vehicles from reaching true off-road success.
TO PURCHASE THIS PRODUCT CLICK HERE
£1850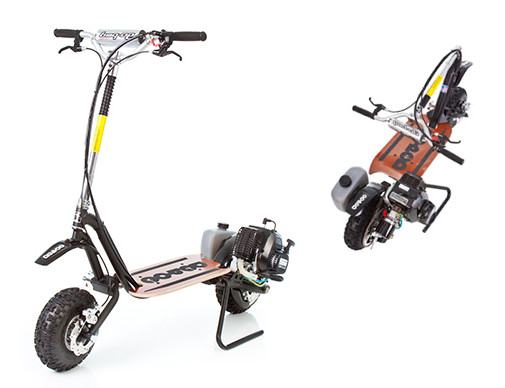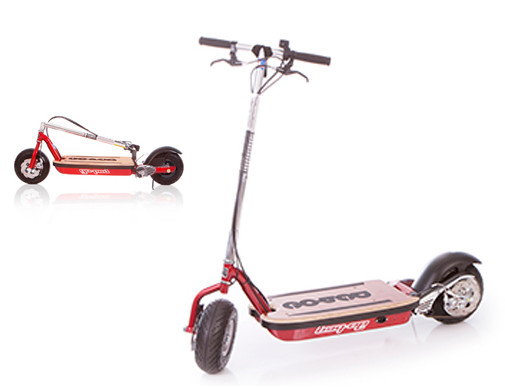 750ESR EX
The ESR750 EX is equipped with sealed lead acid batteries & will provide users with an impressive 8 mile range in economy mode, a top speed of 12mph and up to a 5 mile range in turbo mode, which allows users to reach a top speed of 20mph*. At only 59.5 pounds, the ESR750 EX has an excellent range to weight ratio over all other SLA models in it's class. It is ideal for electric entusiasts and commuters looking for an economical electric scooter which boasts unmatched power, reliability and performance.

Incorporating the same quality standards with high quality materials, components, and American craftmanship as our top of the line ESR750 H insures you that this is the best sealed lead acid battery powered scooter available.

*Speed and range claims are made with following assumptions: 170lb rider, smooth riding surface, flat ground, no wing, proper tyre inflation and chain adjustment.
TO PURCHASE THIS PRODUCT CLICK HERE
£1650

750ESR HOVERBOARD
The ESR750 H Hoverboard® (SLA) offers 2.7" of suspension travel in the front and 3.5" of suspension travel in the rear that is adjustable from "plush to firm" for customising the perfect balance to suit rider preferences. Very effective and stylish front and rear fenders help protect both rider and Hoverboard® in the event of foul weather and the Mad Dog front disc brake with anti dive produces secure and reliable stopping power.

Utilising 3 major patents, this two wheeled marvel will quietly, efficiently and effortlessly propel riders of up to 250lbs above the ground with the sensation as if they were magnetically levitating on a cloud. The degradation of urban streets, rough nature of country roads and everything in-between are practically un-noticeable as you float over them on this energy saving scooter. As with all ESR 750 Go-Ped® scooters it requires nothing more than the included charging chord and a power outlet.
TO PURCHASE THIS PRODUCT CLICK HERE
£1850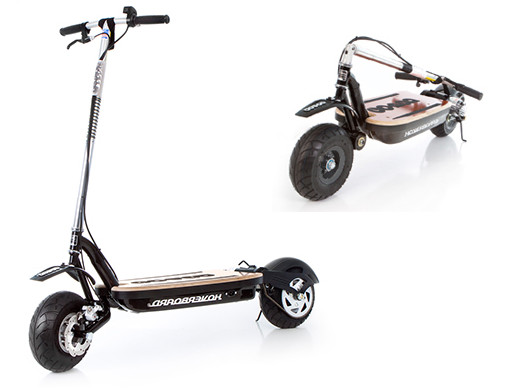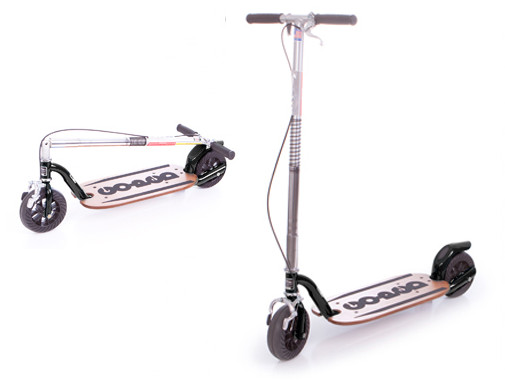 URBAN KICK SCOOTER
The self-powered push scooter crafted for adults. Created in 1987 by Go-Ped® and inspired by the original Sport petrol powered scooter, the Urban Know Ped® has all the design features of the Sport without the motor.

Handcrafted in the USA from the same high quality aircraft grade materials that all Go-Peds® are made from, the Urban Know Ped® is strong, durable and portable. It stands out as the standard in push scooter design and construction.

The Urban Know Ped® folds down and the strap clips over the rear fender to enable easy carrying over the shoulder.

A no nonsense kick scooter that is built to last, nothing to go wrong, fast & fun to ride.
TO PURCHASE THIS PRODUCT CLICK HERE
£299

.GO-PED SERVICING & REPAIR CENTRE.
Here at Line One we have Nick Dyer aka "The Doctor" who has been working on Go-Peds for over 20 years, he was
fully trained at Go-Ped USA so it's safe to say he knows what he's doing when it comes to Go-Peds.

SERVICING
For £75 we will collect your Goped from your premises via Parcel Force, all we ask is for it to be emptied of petrol and fully boxed. We then give it a complete service which includes an Air Filter Clean, New Spark Plug, Strip and re-build the steering stem, lubricate all cables and wheel bearings. Any additional work that needs doing we will contact you first to discuss prices etc.

To book your Goped in for a service or repair please call us first to organise the collection etc on 01285 655123 Here at Line One Distributors (Official UK Goped Distributors) we carry an extensive supply of spare parts and accessories for Gopeds.

Thank You